What is a Scrubber Dryer?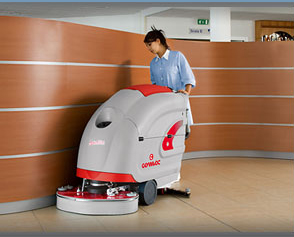 Scrubber dryers are essentially power mops to clean floors. These machines exert high contact pressure with the floor surface, to scrub and clean the floor. It vacuums up spills or grime, and rinses away the trace. While it may take hours of hard work to do the task manually, a power floor scrubber does the task in just a few seconds.
Main Component of a Scrubber Dryer
The standard scrubber dryer comes with a brush, a cleaner tank, and a dirty water tank. The cleaner tank may be detached and filled with cleaning solution. The dirty water tank, filled when the machine vacuums up the dirty cleaning solution from the floor, may likewise be detached and emptied. The brush may be either flat or cylindrical. Cleaning the machine is generally easy, and does not require any special tools. Heavy-duty machines may require periodic servicing.
Walk-Behind Scrubbers
Floor scrubber dryers come in many shapes, sizes, and models. Different models suit small, medium, and large areas. Walk-behind scrubber-dryers are characterised by their small size, and are the best option to clean areas of around 100 m². These models come with a long handle, making it very convenient and easy to push around. These dryers are typically deployed in supermarkets and other places with high people movement, to ensure sparkling cleanliness, at all times. Using walk-behind scrubbers is more economical, compared to wet wiping.
Ride-By Scrubbers
Stand-on or ride-by floor scrubber dryers are powered by a battery, with the operator riding or driving it around. These machines, even though costing more, improve the productivity of the cleaning staff manifold. Standard variants of ride-by scrubbers are best suited for schools, hospitals, retail shops, commercial offices, and other similar spaces. Construction sites, warehouses, agricultural areas, and other rugged or hot environments require heavy duty variants.
How to Select the Best Scrubber Dryer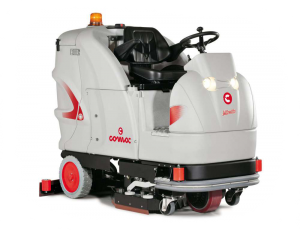 The best scrubber model depends on the surface area to be cleaned, and the type of floor, as in tiled, vinyl, terrazzo, concrete, or anything else. Heavy-duty machines, although costing more, gets into tight and low spots very well, compared to lighter machines. The best method to clean especially dirty or tough spots is to pour out the cleaning solution and scrub for a few passes, and then activate the suction at the final pass. Heavy-duty scrubbers are especially useful for cleaning ceramic floor tiles in a thorough manner, to make explicit the quartz sparkles, which remain hidden under a layer of grime, under normal wet clean. Many models are versatile machines, working best with all types of floors, including uneven, smooth and hard floors. Changing a couple of parts, in some models, can even convert the machine to a professional carpet cleaning machine.
Conclusion
Regardless of the type of scrubber chosen, consider the ease of operations and the extent of maintenance required. The best option is to invest in a robust scrubber dryer from a reputed manufacturer, to ensure the machine lasts for a very long time, and does not require extensive maintenance.