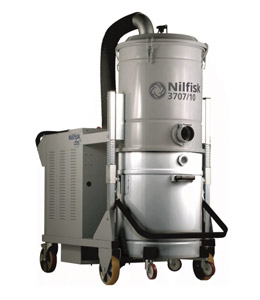 The CFM 3707 is a high-performance industrial vacuum cleaner which offers extreme manoeuvrability and versatility. The device is available in both a 5.5kW and 11kW power ratings, which are useful dependent on what you're cleaning. Large, messy buildings may require the more powerful 11kW cleaner whereas a small hall may only require half the power to get it clean.
This industrial vacuum cleaner boasts a high capacity waste container, meaning that it won't need emptying very often. The oversized waste container is also helpful, as this particular cleaner has a wide filter area, which is a massive 45 square metres, and has an airflow speed of 8,100 litres per minute. The depression is of 3,600 Decapascal, resulting in a strong suction.
You could say this vacuum cleaner sucks — in a good way!
The vacuum is a three phase cleaner, meaning it provides suction more efficiently, due to the configuration of the motor which operates the air pump.
While this vacuum cleaner packs a punch, it's not all that loud. It has an average a volume of around 77dB, equivalent to the average volume of music within a specific room. While the levels might be irritating to some, in comparison it's no louder than a lawnmower.
Contact CleanHire today and we'll be more than happy to help with any information you might want. You're also welcome to contact us for a quote.
| Model | Phases | Rated Power | Depression (daPa) | Airflow (ltr/min) | Main Filter Area (cm2) | Sound Level dB(A) | Dust Bag/Tank Cap (litre) | Weight (kg) | Dimensions H*W*L (cm) |
| --- | --- | --- | --- | --- | --- | --- | --- | --- | --- |
| CFM 3707 | 3 | 5,5 | 3600 | 8100 | 45000 | 77 | 175 | 260 | 180*83*165 |