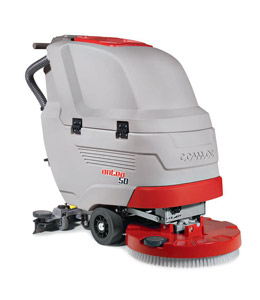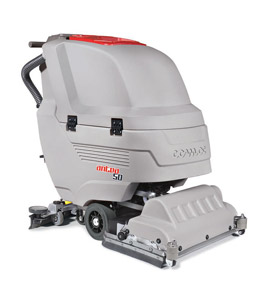 Antea 50 BTS
The scrubbing-sweeping version is equipped with two cylindrical brushes that enable to pick up small debris and convey them in a dirt hopper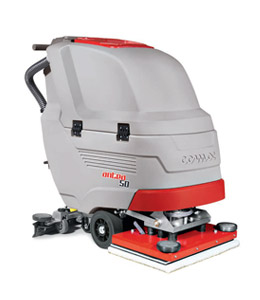 Antea 50 BTO Orbital
Thanks to the high frequency oscillations, Antea 50 BTO Orbital allows you to get outstanding cleaning results saving energy, water and detergent.
Antea is a walk behind scrubbing machine, battery powered, offering high performances for both maintenance and heavy duty cleaning of floors up to 2200 sq.m. It is available with a disc brush with 50 cm working width, with traction (BT version) or without it (B version). Moreover, they come with traction also the scrubbing-sweeping version with 2 cylindrical brushes (BTS) and the new orbital version (BTO).
Antea stands out for its new design that provides reliability and sturdiness. Such qualities are granted also by innovative choices, like the use of a pressure die-cast aluminum squeegee mount, machine frame and brush head. The operator will find the machine very easy to use and to manoeuvre. Its compact size makes it an ideal model for several sectors: healthcare, hospitality, large-scale retailing, automotive and public institutes.
Many are the benefits Antea can offer:
Intuitive drive, with few and easy controls
Versatility, thanks to the compact size it is ideal to meet the cleaning needs of several sectors
Full accessibility to components for easier maintenance
Energy saving and silent operation < 66 dB (A), thanks to Eco device (traction versions)
Control of water and detergent consumption with CDS system (optional, only traction versions)
Reliability over time and sturdiness are guaranteed by the new design and the new pressure die-cast aluminum frame
| Model | Work Capacity (up to sq.m./h) | Working Width (cm) | No of Brushes | Working Width with Squeedge (cm) | Solution Tank (l) | Noise Level dB(a) | Power Supply |
| --- | --- | --- | --- | --- | --- | --- | --- |
| Antea 50 B/BT | 1780 | 50.8 | 1 | 70 | 40 | 68 | Battery (24V) |
| Antea 50 BTS | 1750 | 50 | 1 | 70 | 40 | 68 | Battery (24V) |
| Antea 50 BTO Orbital | 1780 | 50.8 | 1 | 70 | 40 | 68 | Battery (24V) |