Viper Fang 20HD Scrubber Dryer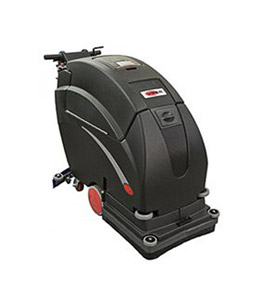 The Viper Fang 20HD is the perfect scrubber dryer for cleaning in tough and dirty environments.
This medium-sized walk-behind scrubber dryer allows you to easily clean floors in tough and dirty environments. The FANG 20HD is easy to manoeuvre and easy to use. The cleaner features variable pressure pads, meaning it can easily be adjusted to your specific cleaning requirements. This cleaner is particularly useful for very dirty areas, where all you need to do is just add more pressure. Also, the machine has a transaxle drive system with variable speed drive, meaning you can reduce the speed if you want to focus on a particularly stubborn or dirty patch. This beast of a floor cleaner features
a big tank capacity and a greater battery capacity, meaning it's possible to clean for a longer time.
You will find the FANG 20HD is ideal for cleaning up after building contractors and for cleaning in other industrial environments.
A Durable Machine
With the Viper Fang 20HD, you get a long-lasting machine that is built to meet the highest cleaning standards. The scrubber dryer has a heavy-duty aluminium squeegee that is ideal for tough environments. Whether you are scrubbing an office lobby or car park, expect the squeegee to eliminate dirt and grime.
The variable pressure pads in the Viper Fang 20HD scrubber dryer make it possible to modify the machine to suit specific needs. Proper usage of the equipment prolongs its lifespan. You also benefit from a big tank capacity.
A Superbly Designed Machine
The Viper Fang 20HD has a transaxle drive system, a 2-stage vacuum motor and a vacuum power of 400W. It is the right machine when you need to blend power with ergonomics.
The design of the scrubber dryer allows the operator to look around to see the floors in front without struggling.
Its adjustable handle improves usability because the operator can alter the positioning for more convenience. The machine is not hard to maintain, which makes it a cost-effective investment.
If you are looking for the perfect machine for your commercial and industrial cleaning requirements, then the Viper Fang 20HD scrubber dryer is a good choice.
| Model | Vaccuum Motor Type | Drive System | Voltage (w) | Noise Level (dB(a)) | Productivity Rate (m2/h) | Cleaning Width (mm) | Solution/Recovery Tank (l) | Squeedge Width (mm) |
| --- | --- | --- | --- | --- | --- | --- | --- | --- |
| Fang 20 HD | 2-stage | Transaxle 250W | 24 | 69 | --- | 510 | 61/61 | 750 |