Tennant M20 Scrubber/Sweeper hire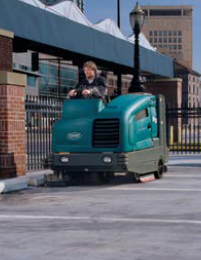 Tennant M20 Floor Scrubber Sweeper
Outstanding cleaning results in just one pass – wet or dry – with FloorSmart® technology
Improve productivity with ec-H2O™ or FaST® technology for cleaning
Up to three times longer than conventional scrubbing methods
 Low cost of ownership from fully-integrated, cost-efficient design
The first fully-integrated floor scrubber sweeper, the Tennant M20 is engineered for consistent, industrial strength floor cleaning whether scrubbing, sweeping or doing both at once.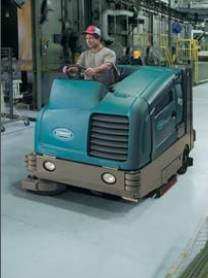 Dramatically lower cost of ownership
Without compromising safety or performance, we've reduced the lifecycle cost of ownership for machines that both scrub and sweep. With two brushes instead of four, EasyOpen™ service access, and 14% fewer parts, the M20 is one of the most cost-efficient industrial cleaning machines available.
Durable, reliable, long-life productivity
The M20 is not two separate machines bolted together like traditional sweeper scrubbers. Its integrated design, combined with rugged steel and Duramer™ construction, make it simple to maintain and built-to-last.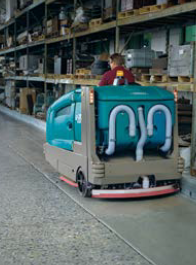 Safe for operators, customers, and employees
The ErgoSpace™ operator compartment, ec-H2O™ or FaST® technology, Hygenic® tanks and Grip-N-Go™ corner rollers to protect your facility are just a few of the ways the M20 machine sets a new standard for safety.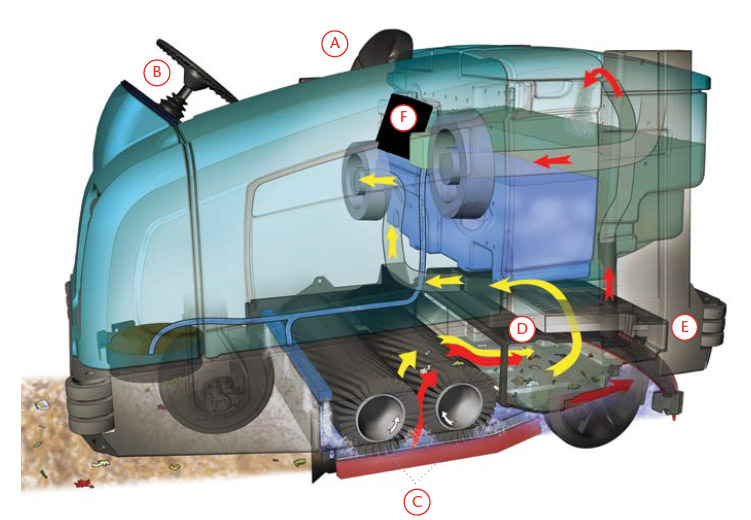 A
Ergonomically friendly
for operators, the ErgoSpace™ operator compartment makes cleaning with the M20 safe,easy, and comfortable.
B
Reduce training
and simplify operation with the Touch-N-Go™ control panel featuring 1-STEP™ scrubbing and sweeping.
C
Improve cleaning
results and reduce component wear with FloorSmart® – an integrated scrubbing and sweeping system.
D
Excellent dust control
, shakeback, and high durability from the syntheticpanel filter with InstantAccess™.
E
Long-life construction
from heavy gauge steel frame with T-beam members and Grip-N-Go™ corner rollers
F
Reduce environmental impact*
with ec-H2O™ or FaST® technology.