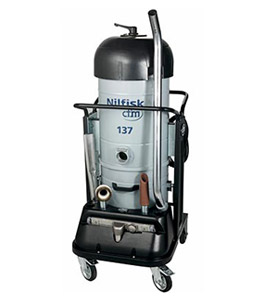 If you want a small-sized industrial vacuum the features a larger machine, then the CFM 137 from Nilfisk is it. The appliance comes with an ultra-efficient filtration system that provides unrivalled performance.
By dividing the filtration into several stages, the manufacturer ensures that the machine works at maximum efficiency. The unit has a sound suppressor that allows it to diffuse exhaust air which reduces the noise level. It's easy to carry due to the compact build.
The CFM 137 industrial vacuum has casters on the collection container hence simplifying disposal. It has excellent suction power for a unit of its size, allowing it to offer exceptional dust extraction. You can get the industrial vacuum in tank capacities of 16 or 26 gallons.
| Model | Phases | Rated Power | Depression (daPa) | Airflow (ltr/min) | Main Filter Area (cm2) | Sound Level dB(A) | Dust Bag/Tank Cap (litre) | Weight (kg) | Dimensions H*W*L (cm) |
| --- | --- | --- | --- | --- | --- | --- | --- | --- | --- |
| CFM 137 | 1 | 3 | 2150 | 8200 | 19500 | 70 | 60/100 | 62 | 135*65*790 |
Vacuum Tight and Large Spaces
Since the vacuum can be adapted for wet and dry collection, it is suitable for various environments. The size of the appliance makes it easy to manoeuvre in tight spaces. Therefore, you can use it in areas with corners.
Thanks to its suction power and filtration system, the vacuum does a great job in areas with a high traffic volume. Nilfisk designed the machine to be used in an array of industries from food to metal-working to ceramics.
You can use the appliance to vacuum areas with solids and liquids. Due to its size and weight, the unit moves across large spaces efficiently without tiring the user. Even in the most strenuous industrial environments, the vacuum cleaner holds up well.
Quality Vacuum Machine Hire
You can expect the best services when hiring vacuum cleaners from us. Cleanhire helps you get the most appropriate unit for particular needs.
With our friendly and professional service, customers can count on getting the necessary help. We only carry the best cleaning equipment. Our machines go through rigorous and regular servicing to guarantee that they are ready for use when delivered to clients.
You can hire the CFM 137 on a long or short-term basis. If you require training for operators, then we provide that as well.
Leverage competitive rates and hire quality vacuum cleaning machines from us. Our equipment hire services are available throughout the UK.