Viper AS 380/15 Scrubber Dryer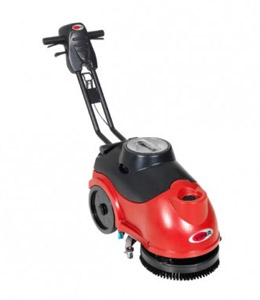 Fast and Thorough Cleaning with Viper AS 380/15
The ideal scrubber dryer for cleaning cramped spaces has to be compact enough to move around. You wouldn't want a machine that doesn't leave you enough room to move around.
The Viper AS 380/15 scrubber dryer is this and more. It's an extremely compact walk-behind scrubber dryer. You can get the battery version of the AS 380 if you want the convenience of operating the equipment in narrow spaces.
Alternatively, an electric dryer is available if you want a machine that lasts longer for every session. Cleanhire carries the A 380 series, which you can hire for light and medium scrubbing applications.
Small retail outlets, offices and schools are some of the areas where you can use the AS 380/15.
Ergonomic Equipment for Your Cleaning
How comfortable a machine is matters a great deal when you want to hire a scrubber dryer. The AS 380/15 has an ergonomic design that makes cleaning simple.
It has an adjustable handle that you can fold to store the equipment. The location of the handles on the water tank sides makes them easily accessible and convenient.
Due to the compact design, the AS 380/15 makes emptying and refilling simple. It's not too heavy to push, making cleaning tasks efficient. Hire the Viper AS scrubber dryer from Cleanhire at excellent rates and give your spaces the treatment they deserve.
| Model | Vaccuum Motor Type | Drive System | Voltage (w) | Noise Level (dB(a)) | Productivity Rate (m2/h) | Cleaning Width (mm) | Solution/Recovery Tank (l) | Squeedge Width (mm) |
| --- | --- | --- | --- | --- | --- | --- | --- | --- |
| AS 380/15 | - | - | - | 65 | 750 | - | - | 490 |