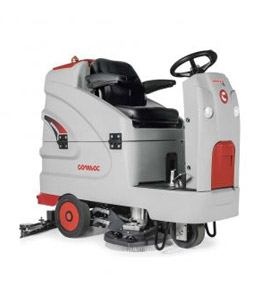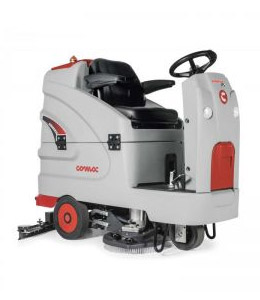 Stress-free Cleaning with the Comac Innova Comfort
Comac has some of the top ride-on scrubber dryers on the market. The Innova Comfort range caters to a broad range of commercial cleaning requirements. As the name suggests, this line of scrubbers is designed for maximum comfort.
It includes luxurious seats with armrests and a reclined steering wheel. The Innova Comfort 75 and 85 are the two options that are available for hire here.
With the widths (75 and 85 cm), you can select the most effective cleaner for specific applications. Comac incorporates several technologies to increase the efficiency of the range.
Innova Comfort have an ECO mode that saves water, energy and detergent. The simplicity of operation allows even people with little experience to work the appliances with a similar control layout to a floor sweeper machine.
Suitable Environments for Innova Comfort
The Comac scrubbers are optimised for energy consumption and can run for four hours non-stop. For this reason, they are suitable for big spaces in the commercial sector.
From public buildings to factories to supermarkets, the Innova Comfort scrubber dryers would provide unmatched service. The impressive power of the cleaning equipment makes it ideal for high-traffic settings.
A noise reduction feature makes the units perfect for cleaning busy environments. Cleaners can work without causing too much interruption. Innova Comfort is the ultimate scrubber line for maintenance cleaning.
| Model | Work Capacity (up to sq.m./h) | Working Width (cm) | No of Brushes | Working Width with Squeedge (cm) | Solution Tank (l) | Noise Level dB(a) | Power Supply |
| --- | --- | --- | --- | --- | --- | --- | --- |
| Innova Comfort 75 | 4500 | 75 | 2 | 99 | 70 | 70 | Battery (24V) |
| Innova Comfort 85 | 5100 | 85 | 2 | 110.J | 70 | 70 | Battery (24V) |
Your Best Hiring Option
Whether you are looking for long- or short-term floor scrubber dryer hire, Cleanhire is the right partner to consider. We have been providing cleaning solutions for years and have a unique insight into what customers look for.
Quality machines are one aspect, and we make certain that we deliver beyond expectations. Comac is one of the top manufacturers or cleaning equipment. Therefore, users are guaranteed efficient service for a long while.
Our strict maintenance standards keep machines in tip-top shape and ready for hire. Regardless of the duration of the project, you can be confident that the equipment will perform as required.
Our services are available across the UK. Once you order your preferred scrubber dryer, we deliver it in good time so that you can begin working. We also provide training for machine operators.
Contact us and capitalise on some of the best scrubber hire rates in the UK.