If you are looking for an industrial floor sweeper for your business, we can supply what you need whatever your cleaning requirements. We offer many types of industrial sweepers to clean areas ranging from 100 to 30.000 sq\mt.
Walk-behind or also known as the push along industrial floor sweeping machines. The operator pushes the sweeper (manual type) or drives it by engaging a drive motor (self-driven type.) Pedestrian sweepers are quite economical, simple to use and service, handy in narrow spaces, and are usually recommended for areas up to 4 – 5.000 sq\mt.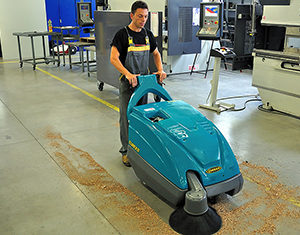 It is important for all businesses to maintain a clean and safe environment for their staff. The easiest way to do that is to buy or hire an efficient, easy-to-use industrial sweeper. The benefits are clear not only for your employees but for customers as well. They will automatically assume that if your commercial premises are well maintained, then your company must also be well looked after; a feeling which builds trust and will encourage sales.
Industrial Floor Sweeper Hire
If you would prefer not to buy one of our industrial floor cleaning machines, our services also include the hire of any of our industrial floor sweeper hire machines. However, we don't just leave you with whichever pedestrian sweeper or ride-on sweeper you have chosen. We make sure you leave with advice and support from our experienced personnel, and we also include a 24-hour support line for the rare occurrence of any malfunction with our floor scrubber sweeper models.
If your requirements are more heavy duty, we also have a range of small or large floor scrubbers like the Tennant 7400, which cleans as it sweeps, for use in areas with greater spills and stains.
Our attentive service and competitive rates make the decision easy. If you are looking to hire an industrial floor sweeper for your business call Cleanhire now on 01744 633738 or email us at; info@cleanhire.co.uk.