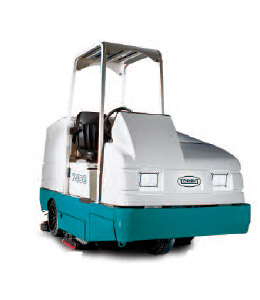 This Tennant 7400 ride-on floor scrubber dryer is so easy to use with one-button operation, that training time is greatly reduced. The dual cylindrical brushes both sweep light debris and scrub effectively more than 8,500 m2 per hour.
The impact resistant side scrubbing brush enables you to clean along edges and scrub along walls easily. The 7400 makes easy work of industry's most demanding cleaning environments.
Large machine performance and small machine maneuverability ensures the Tennant 7400 cleans even tight areas.
Please do not hesitate to contact Cleanhire if you require more information on the specifications of this product.
Features
The high rpm of the brushes, brush pressure and vacuum in combination with working speed gives excellent performance
Cylindrical scrub system
ES (water recycling system)
Memorised, ergonomical one button scrubbing, power steering for excellent manoeuvrability and an automatic detergent dosing system
Side scrubhead
Benefits
Excellent performance
Cylindrical brushes pick up occasional debris to eliminate the need for sweeping before scrubbing
Extends runtime and increases productivity for medium to heavy soilage
 For ease and comfort
Extends cleaning reach to 145cm
Applications
Warehousing & distribution facilities
Transport sector
Municipalities
Manufacturing & production facilities
Contract cleaning
Car parks