Viper Fang 24T/26T/28T Scrubber Dryer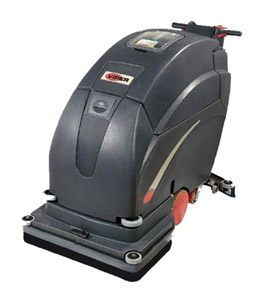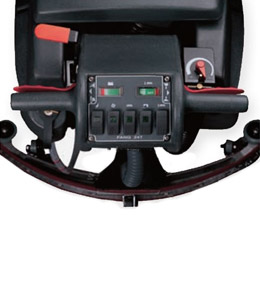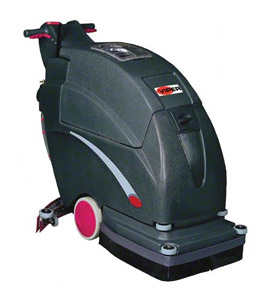 The Viper Fang 24T/26T/28T is not only built for durability but manoeuvrability as well. It has wheels that make it easy for the operator walking behind it to push it into hard to reach places. With a variable speed driver, you can choose how fast to scrub the floors. Its forward and reverse programs make it possible for the operator to move in and out of tight spaces. The machine can be adjusted to meet specific cleaning needs. Users also enjoy variable pad pressure, which contributes to simpler cleaning. Viper is a top manufacturer of cleaning equipment, and that is why we stock its models. Whether you are hiring or buying, you can find genuine Viper machines at Cleanhire.
Heavy-duty Cleaning
If you need a walk-behind scrubbing machine that is suitable for industrial and heavy commercial use, the Viper Fang 24T/26T/28T doesn't disappoint. Its squeegee system is made of cast aluminium that is responsible for the high performance of the equipment.
The squeegee leaves floors dry, recovering over 99% of the water on the surface. They are built to scrub heavily soiled floors, which makes this machine ideal for construction sites and other industrial settings. Squeegees on Viper Fang scrubbers are easily replaceable.
A Solution to Your Cleaning Needs
The 24/26/28 refers to the scrubbing widths of the scrubber that influence the productivity rate of the unit. The particular requirements of a customer determine which width is more appropriate. This particular Viper Fang scrubber offers a large storage capacity for the cleaning solution, allowing an operator to go through a large space without stopping for refills. With the Viper Fang 24T/26T/28TY, you can benefit from high cleaning power at an affordable rate.
Viper Fang 24T/26T/28T is worth the investment when you need a professional cleaning machine that can handle heavy tasks. Contact Cleanhire to hire an original Viper Fang scrubber.
| Model | Vaccuum Motor Type | Drive System | Voltage (w) | Noise Level (dB(a)) | Productivity Rate (m2/h) | Cleaning Width (mm) | Solution/Recovery Tank (l) | Squeedge Width (mm) |
| --- | --- | --- | --- | --- | --- | --- | --- | --- |
| Fang 24T | 3- Stage | Transaxle | 24 | 68 | 2400 | 60.9 | 66/75 | 810 |
| Fang 26T | 3- Stage | Transaxle | 24 | 68 | 2600 | 66 | 66/75 | 810 |
| Vaccuum Motor Type | 3- Stage | Transaxle | 24 | 68 | 2800 | 71.1 | 66/75 | 915 |