Comac Vispa 35b Floor Cleaning Machine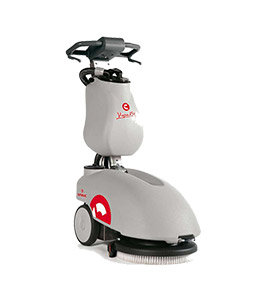 When looking for powerful cleaning equipment that is suitable for small and congested areas, Vispa scrubber dryers are worth considering. The Vispa 35B from Comac has a compact design that allows it to move freely in tight spaces. You can get the battery-powered model for the best manoeuvrability. Reach into cluttered areas and walls to get rid of the dirt that is stuck in hard-to-find places. You can hire a Vispa scrubber dryer at Cleanhire. We carry cleaning machines from top brands, which allows customers to benefit from powerful performances. The equipment comes with all the necessary attachments to makes cleaning as efficient as possible.
| Model | Work Capacity (up to sq.m./h) | Autonomy up to (h) | Working Width (cm) | No of Brushes | Working Width with Squeedge (cm) | Solution Tank (l) | Noise Level dB(a) | Power Supply |
| --- | --- | --- | --- | --- | --- | --- | --- | --- |
| Vispa 35B | 1000 | 1 | 35 | 1 | 45 | 10 | 69 | Battery (12V) |
Built for High Performance
Compared to manual cleaning machines, a Vispa scrubber dryer boosts productivity by up to 30%. It only requires a single pass to wash and dry floors.
The combined washing and drying functions reduce slip and fall risks because floors dry immediately.
If you hire an electric scrubber dryer, it comes with the cable. You can invest in scrubber dryer hire for various applications from manufacturing to health to retail.
Hire From the Best
Why should you consider Cleanhire for your equipment rental? We have experience in cleaning machines and know the right ones for different uses.
If you are unclear about the Vispa scrubber dryers to rent, our service agents can help. We offer 24-hour support in case you require assistance with anything else. Hiring cleaning equipment saves money compared to buying outright. We provide you with some of the most competitive rates around. Customers can enjoy fast delivery as well.
We have high maintenance standards for our machines, which ensures that they stay in the best condition. Each scrubbing machine gets regular servicing to eliminate the risk of malfunctions when we rent it out.
For the best quality industrial scrubber dryers, contact Cleanhire. Get the ideal equipment for your cleaning job.