Coupled with a Wi-Fi enabled Roomba vacuum cleaner, Amazon's Alexa could change the way you clean your floor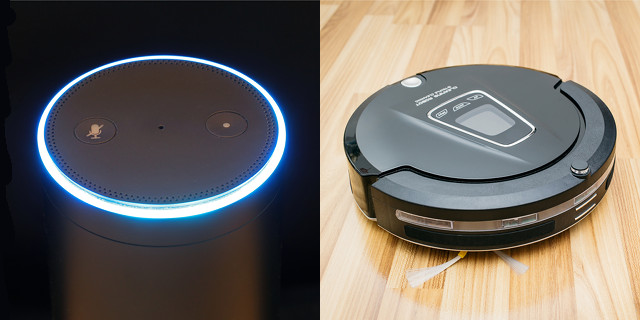 Vacuum cleaning can be a physically demanding task.  If you're not battling with the flex, you're trying to wrestle with the accessory brush on the stairs.  If you're lucky, you might have a robotic vacuum cleaner which makes light work of your floor.  This month, a new type of Roomba vacuum cleaner has hit the shops in the USA.  They are Wi-Fi enabled and compatible with Amazon's Alexa system, on the retail giant's Echo devices.
The Amazon Alexa system enables you to automate many home devices.  By speech, you can use it to order your shopping or find the nearest takeaway.  With a Wi-Fi enabled Roomba, you can use Alexa to tell the robotic cleaner to clean the living room at 9 pm.
At present, Roomba's 600, 800, and 900 series vacuum cleaners benefit from Wi-Fi access via a smartphone app.  Their new models, the Roomba 690 and 890, are compatible with Amazon Alexa from the start.  Straight out of the box, you can pair your state-of-the-art robotic cleaner with the Amazon Echo device.  Then you can set the vacuum cleaner to a given time, via the Echo device, and have a rest.  How good is that?
The Roomba 690 is selling for $375 on their website.  As it is only 3.6" tall, it can clean under some tables and chairs.  Both the 690 and 890 models include the iRobot HOME smartphone app as well as Wi-Fi access.  As for buying one from Currys, well, we'll have to wait and see when it hits our shores.  Let's hope it's not too long.
Clean Hire, 02 May 2017.