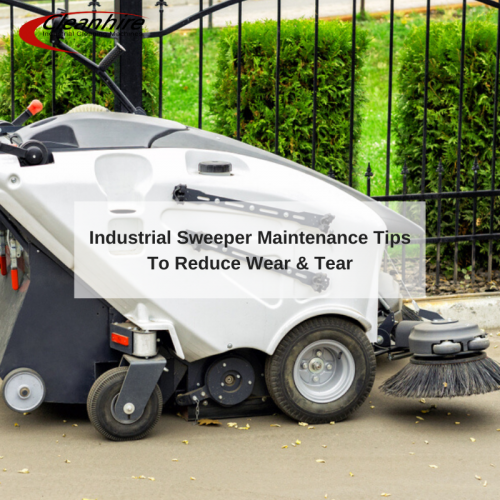 When maintained properly, industrial scrubbers and sweepers will be capable of tackling even the most challenging of tasks.
So, let us take a quick look at a handful of professional maintenance tips which will ensure that no unexpected problems arise.
Examine the Status of All Brushes and Scrubbing Pads
An industrial floor sweeper will come equipped with one or more scrubbing heads.
As these elements are constantly moving, they can succumb to mechanical wear over time. Check to ensure that they are in good working order. If not, they should be replaced.
Check the Condition of the Squeegee Blades
Squeegee blades can likewise become worn or cracked over time; especially if your machine regularly uses solvents to clean a floor.
If you note that small lines of water are trailing behind the machine, the chances are high that the squeegee blades are to blame.
Visually inspect them to ascertain whether or not a problem is indeed present.
Clean the Recovery Tank on a Regular Basis
The recovery tank of a cleaning machine should be completely emptied after each use. This will help to prevent the buildup of limescale and similar deposits which can decrease the efficiency of the entire unit.
If you do happen to notice that materials are present along the sides of the tank, clean them off before it is once again filled.
Examine the Filter Screen
The filter between the recovery tank and the lower portion of the cleaning machine is meant to trap small particles of dirt and debris. Much like an oil filter within a car, it can become clogged over time.
This is why the filter should be checked on a regular basis; especially if water pressure levels appear to be lower than normal.
The industry experts at Cleanhire are highly trained technicians and this is why all of our machines are vetted to the highest of standards. If you hope to leverage the power of these modern units, please feel free to give us a call in order to schedule an in-depth consultation at your convenience.