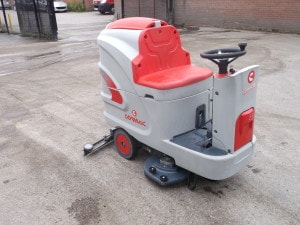 When you're making use of an industrial cleaning companies services it will be useful to understand some of the terms that are used. It's not a completely new language you need to learn but being able to explain what you want and whether there is a problem with something will improve communication.
Industrial cleaning machines are very similar to those you might use in the home, so using the right terminology will also benefit you in your daily life. Understanding the terminology will be very useful, should you ever be looking for the best machine to buy. The terms we're about to introduce are used by manufacturers and service providers.
Industrial Cleaning Machine Glossary
Dimensions – As well as the actual dimensions of the machine itself, manufacturers also give details of the cleaning/working width and the squeegee width. Knowing the dimensions of the actual machine will be useful to know to ensure it can fit through doorways. However, the most important, when it comes to the actual process of cleaning, is the cleaning and squeegee width. Knowing these dimensions will allow you to determine how long a job will take.
Vacuum Power – a vacuum with a weaker suction power may take more than one single pass to clean the floor.
Tank Capacity – this figure will give an indication as to how long the scrubber can work before it needs refilling or emptying.
Brush/Pad – industrial floor cleaners use a cylindrical or roller brush or a disc pad. Which one is best really depends on the type of floor. Machines with a disc pad tend to be cheaper, simpler to maintain and replacing discs is less expensive.
Brush Pressure – this figure indicates the pressure the cleaning brush exerts on the floor and how efficient the cleaning process will be.
Brush Speed – this is how fast the brush rotates, agitating the detergent. More effective scouring is achieved with a faster speed.
Traction – some walk-behind machines have a traction drive that helps the operator move the machine. This feature can be very useful for larger and much heavier machines.
Max Area Performance – this figure is usually given as square metres per hour.
Machine Weight – this refers to the total weight of the machine and is usually given in kgs.
Power Source – it can be battery or mains powered. Both of which have their own advantages. For example, a battery powered machine can be used anywhere. However, mains powered machines can be used for as long as needed.
Sound Level – the acceptable level is 63dBA.