A look at the Scott Fetzer company's iconic Kirby vacuum cleaner
In relation to architecture, John Ruskin gave us these sage words: "When we build, let us think that we build forever."  This phrase can be applicable to luxury goods.  With cars, the Rolls Royce, Bentley, and Lexus marques.  For cameras, the Leitz Company's Leica cameras set the gold standard.  With vacuum cleaners, some might say the same about the Kirby vacuum cleaner.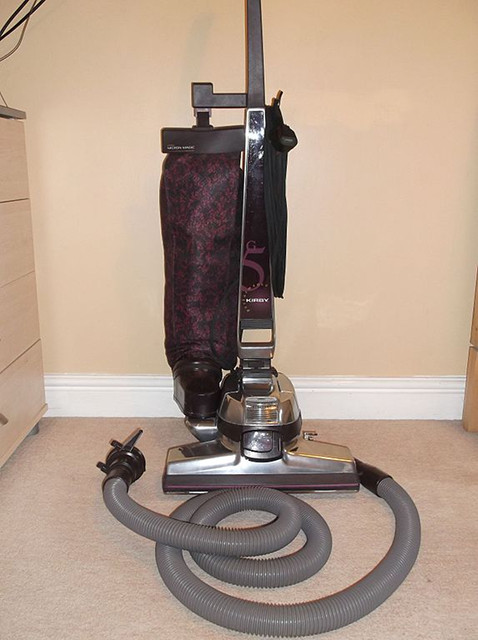 Kirby vacuum cleaners are seen at the higher end of the price spectrum.  Even in the second-hand market, prices command three figure sums.  Why are Kirby vacuum cleaners so expensive?  Quality is one thing, with owners having the same models for a decade or more.  The hood is built like a tank; its weight is of great criticism to some users.  Its conservative design, characterised by its metal brush has endeared hardcore Kirby fanatics who have kept their cleaners for 20 years.
Where Kirby differs from Hoover, Numatic and Electrolux is in the sale of their premium priced vacuum cleaners.  Since 1920, these products have been sold by door-to-door salespeople.  He or she would give you a demonstration of the vacuum cleaner as part of their sales pitch.  Then, the customer decides whether or not to make a purchase.  A demonstration can be scheduled via the Kirby website.
Therefore, the only way you can purchase a Kirby cleaner is via scheduling a demonstration.  This ensures its exclusivity and the proper promotion of its product by well trained salespeople.  Nowadays some independent retailers offer reconditioned models.
A Brief History of Kirby
The first Kirby vacuum cleaner was developed by Jim Kirby in 1906.  It was known as the Domestic Cyclone.  In 1914, George H. Scott starts his own business which becomes The Kirby Company.  The following year saw the arrival of Carl S. Fetzer, which led to Messrs Scott and Fetzer forming a partnership.
Its most seminal moment came in 1920 when door-to-door sales demonstrations were introduced.  The first vacuum cleaner to bear the Kirby name is the Model C from 1934.  It is also the first one to have a rounded light hood.  Though the basic design has remained unchanged, gradual improvements were made to subsequent models.  1979's Kirby Tradition was the first of their vacuum cleaners to support disposable vacuum bags.  The Generation 3 added speed controls and, while remaining faithful to the original design, lighter construction.
The latest model is the Avalir, launched in 2015.  It is noted for its ability to clean hard floors, thanks to its Multi Surface Shampoo System.  Today, its parent company, Scott Fetzer Companies, is part of Berkshire Hathaway, Warren Buffett's conglomerate.