One's looking for a part-time cleaner at the Palace of Holyroodhouse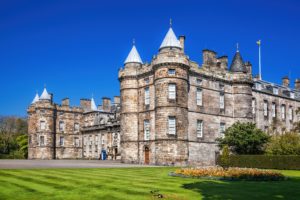 Fancy a move to Edinburgh?  The Royal Household are looking for a part-time cleaner at the Palace of Holyroodhouse.  It is an ideal position for cleaners seeking a fresh challenge in unique surroundings and a change from the office or shop floor.
The Royal Household's vacancy pays £8,580 per annum for a 20-hour week, working five out of seven days in a week.  Plus you also get a 15% non-contributory pension with an option to boost your payments or draw down your contribution rate in favour of higher earnings.  You also get 33 days holiday pay, including Scottish and British Bank Holidays, and free lunch.  Staff social and recreational facilities are among the perks.
The Palace of Holyroodhouse is no ordinary cleaning assignment.  Your work will include cleaning and caring for irreplaceable items.  For example, rare paintings and furniture of historical interest.  Successful applicants will get to clean public areas, State rooms, and staff offices.  Providing a first class cleaning service for the Royal Family as well as the general public could go a long way on your future C.V.
The Palace of Holyroodhouse is the official Scottish residence of our reigning monarch, Queen Elizabeth the Second.  It was built between 1671 and 1678 in a quadrangle layout which it retains today.  Holyroodhouse is at the eastern end of Edinburgh's Royal Mile.   It is also said to be haunted by the ghost of Bald Agnes. Agnes Simpson was stripped and tortured in 1592 after being accused of witchcraft.
To apply for this position, all applications should be submitted by the 29 October 2016, 11.55 pm.
Clean Hire, 17 October 2016.