Clean-em-ups and street sweeping simulators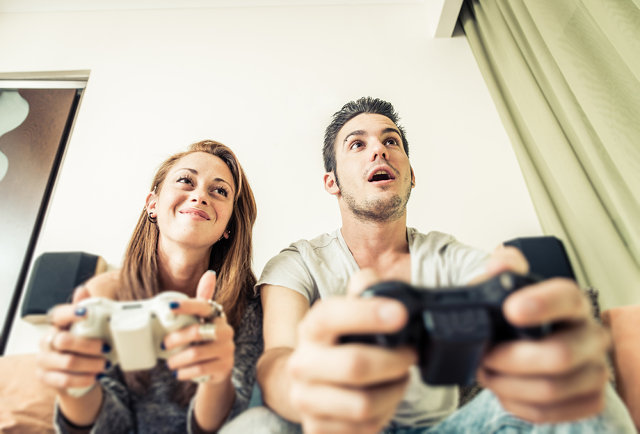 After a tough day battling with a Tennant or a Comac machine, a bit of rest and recuperation is a good thing. Sometimes, a big mug of tea is enough. Others prefer to relax with video games on their XBox or PS4. Or a casual game on their tablet or smartphone.
We at Clean Hire have crossed the fine line between business and pleasure for today's blog post. This time by looking at cleaning themed video games since 1980.
The Vectrex console was a unique system for its time. Instead of bitmap graphics, it used vector graphics (like Atari's Asteroids did in 1979) and came with its own screen. When released in 1982, Pac-Man was vying for our 10 pence pieces alongside Space Invaders and Galaxian.
The Vectrex's own Pac-Man clone was Clean Sweep. It was basically the same game, but you controlled a vacuum cleaner instead of a hungry sphere. Your maze was a bank vault where you hoovered up ghosts and banknotes.
Clean Sweep wasn't the only vac-em-up. The Commodore 64 had Slurpy, a static screen 'vac-em-up'. You controlled a colour changing sprite with a mouth shaped like a vacuum cleaner's handle attachment (a bit like Noo Noo's granddad we think). Your sprite's face would change according to the enemy you consumed, and you had plenty of levels to beat.
Slurpy was also released on the Colecovision video games console.
Before the days of knowing which dustbins needed to be out on the right week, Malcolm Evans' New Generation Software launched this quintessentially English game in 1984. Trashman entailed collecting a given number of bins on each street and emptying them into the refuse van. To achieve his goal, the binman had to collect bonus points (to add to his meagre time limit), avoid dogs, keep to footpaths, and avoid being run over by road vehicles.
Trashman was a hit on the 8-bit computer formats of the time. It spawned a sequel entitled Travel With Trashman. This time, our globetrotting hygiene operative has to make enough money to pay for his next trip around the world. A third one, Trashman Through Time was planned in 1985 – possibly like Back To The Future though sponsored by Shelvoke and Drewry, was never released.
The intended fourth – actual third game – Trashman Goes Moonlighting was only released for the Amstrad CPC. A modern-day version of the Trashman video games could be more complex, especially knowing when the Purple Bin has to be collected from Montague Road.
Nowhere near as well known as Malcolm Evans' titles, Mrs Mop is an overhead view mopping simulator. You play a caretaker at a comprehensive school and try to mop its floors. Making your role difficult is an assortment of rats and other baddies. They can give your back some gyp and drain your energy bar. Water has to be filled and refilled at nearby sinks (dogs can drink your water!). Once your back hurts, you lose one of your three lives.
Imagine you've got a world famous theme park to promote, one based around its most iconic films. Do you faithfully recapture the thrill of the movies? Do you use the rights to good effect? Well, the developers of Universal Studios Theme Park Adventure wasted an opportunity. Though you can play sub games based on ET, Jaws, Waterworld and Backdraft, most of the adventure game is based around queueing, stamp collecting and litter picking.
Litter picking? In a video game? What did we say about video games being an escape from the drudgery of work? You need to pick litter, buy particular hats for each ride and collect stamps. One reviewer in his inimitable way was particularly scathing about this movie tie-in.
For the last of our six cleaning orientated video games, we pull up to the bumper for a pulsating game of Street Cleaning Simulator. Back in 2011, there was a glut of esoteric simulator titles for Windows PCs such as Goat Simulator. German developers Astrogon went for high octane thrills and spills, with a diesel street sweeper. You not only navigate your way through three-dimensional streets, you also get to control the bristles.
It has highly detailed background images and vehicles. The game got mixed reviews, so as video games go, probably an acquired taste. The same software house's back catalogue includes Utility Van Simulator.
Any more video games to the list?
Feel free to suggest any more cleaning themed video games. We would love to hear from you whether you can think of any more games (references to computer or console formats are most helpful), or remember any of the six titles.
Clean Hire, 25 February 2016.