Has a Truro doctor designed the world's smallest bagless vacuum cleaner?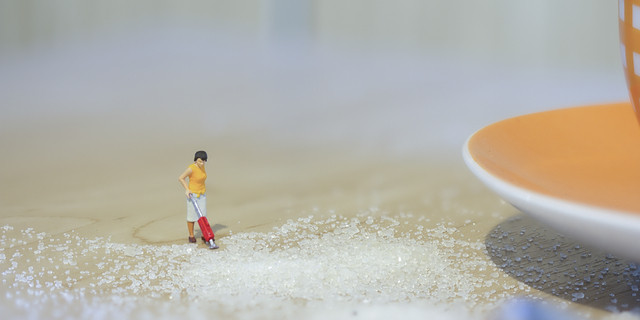 Could a Truro doctor be the first person in the Guinness Book of Records to hold the record for having the world's smallest vacuum cleaner?  For many people, a vacuum cleaner is small enough to manoeuvre around the house.  Our industrial vacuum cleaners can be used in warehouses and on airport terminals.  According to the Plymouth Herald, Doctor Toby Bateson may have set a precedent.
A Dyson clone for a dolls house?
Toby's cleaner is 2.8 cm tall, about the same size as an eraser.  Owing to its small size, you handle what is probably the world's smallest vacuum cleaner in the same way as a rubber.  You hold onto the cylindrical cleaner with your fingertips and place it on the area you wish to clean.  This video clip shows you how it picks up dust.
For the time being, it has limited uses.  Mr. Bateson is seen using the vacuum cleaner to pick up sawdust.  It could be a good tool for picking up bits of pencil erasers.  There is potential for his design for add-ons.  A dainty little brush attachment and a slim extension hose could be good.  The accessory pack, if one was to be considered, would take up more room than its cylindrical section.
Instead of being a quirky desktop toy, there is potential for serious uses.  The world's smallest vacuum cleaner could be used for blowing dust off electronic components.  As to whether Mr. Bateson has developed a Dyson clone for a dolls house, he is almost there.  Except, dolls houses tend to be the preserve of hobbyists with cash to burn rather than as a young child's plaything.
Would we buy one?
Should Dr. Bateson's miniature marvel hit the shelves, we think it could be a good stocking filler.  We hope he succeeds.
Clean Hire, 05 December 2016.