Tefal takes on the vacuum cleaner market alongside Dyson with a new bagless cleaner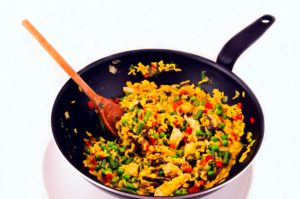 Tefal: what is the first thing you think of when you hear the name Tefal? The first thing that springs to mind is cheese toasties. Teasmades and kettles. Anything to do with cheese and bacon or both, or chips. The brand name is a portmanteau of the first three letters of Teflon and the first two letters of the Aluminium. But vacuum cleaners???
We have learned from the Which? Magazine website how Tefal's creation will give James Dyson and Co. a run for their money. As with Britain's market leading manufacturer of cyclonic vacuum cleaners, Tefal's models are bagless. It is claimed their models have powerful suction capabilities, capturing 99.98% of dust.
Their most powerful cleaner, the Tefal Air Force Extreme TY8865HO has a 6200 rpm motor with a delta shaped brush head, headlights, and a lithium battery. It is a lightweight rechargeable cordless cleaner with a powerful motor, a bit like a Jack Russell Terrier at full tilt. After charging, the vacuum cleaner is operational for five minutes shy of an hour. The recommended selling price for the 25 volt cordless vacuum cleaner is £270.
Should every home have one?
There has been favourable reviews for Tefal's entry into the high powered world of vacuum cleaner manufacturing and design. We like the sleek slimline looks and think the Air Force Extreme range are a useful sidearm for your home. Get one for the stairs: there's no need to worry about the hose or tripping over the flex.
The Tefal Air Force Extreme range of vacuum cleaners are readily available from most electrical shops and online retailers. Please note that some models come under the Rowenta name.
Clean Hire, 15 February 2017.