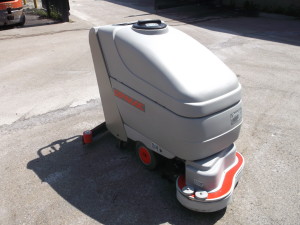 Refurbished floor cleaning machines can represent reliable and cost-effective solutions to tackle challenging industrial and commercial projects. While the units supplied by Cleanhire are some of the most modern in the industry, they still need to be properly maintained. Let's take a quick look at some sure-fire tips and suggestions.
Filters and Recovery Tanks
As these portions of the machine are the most likely to be exposed to chemicals and solvents, it only makes sense that they need to be regularly maintained. Periodically empty and thoroughly rinse any recovery tanks. Examine the associated filters for clogs and similar debris. Remove any foreign matter, as blockages can result in a future shutdown.
Pads and Brushes
Cleaning pads and brushes are designed to stand up to a significant amount of wear and tear. However, their lifespan will be dramatically reduced if not cared for properly. Always clean and rinse these surfaces after each project. Any chemicals that are allowed to sit will cause undue harm and degradation.
Spray Jets
Certain floor cleaning machines are equipped with a series of jets to remove ground-in dirt and stains. As you could imagine, these nozzles can become clogged over time (particularly if you are using a source of water known for high mineral content). Sporadically check to make sure that they are spraying properly. If you notice any issues, remove the affected nozzles and soak them in a combination of vinegar and water overnight. This mildly acidic solution will help to remove any mineral deposits.
The Use of Organic and Environmentally Friendly Solvents
Sometimes referred to as "green" solvents, these organic compounds do not contain any of the harsh solvents associated with their chemical counterparts. Not only will this help to protect the environment, but many chemicals can cause undue wear and tear on internal parts. By limiting their presence, you will be proactively increasing the lifespan of your cleaning machine. Of course, there are many different formulations on the market to choose from and the chances are high that you will be able to find one which suits your needs.
These professional maintenance tips will help to extend the lifespan and efficacy of your second hand floor scrubber. If you encounter other issues or to appreciate the line of equipment that we have to offer, please give us a call at your earliest convenience. Our experts are always very happy to help.