Summer has always been the perfect time for deep cleaning schools to make them hygienic for learners. Since schools can be filled with germs, it is important to plan the deep cleaning activity ahead of time to keep the learners healthy. If you have never done such a thing before, here are some of the best deep cleaning tips for school floors.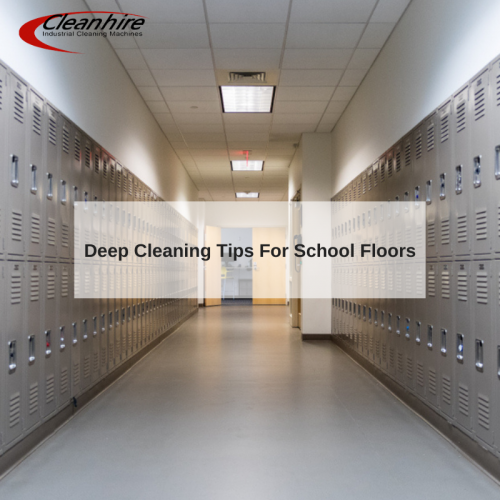 Have the Right Floor Cleaning Equipment
If you are looking to hire cleaning services, they must have the right equipment from Cleanhire UK, to deliver excellent services.
Therefore, before closing the deal with them, be sure to confirm what they will be using to clean the school floors.
Note that deep cleaning might cost a lot of money without the right tools, and you will not be impressed with the quality of the services provided.
Make a Plan
If you are serving as a janitor, the chances are that you will not be sure where to start unless you have a well-formulated plan. Proper planning implies that you know the most attention areas and the duration that the entire work will take.
If there are many of you, in your plan, assign duties to everyone and give them the areas they will work on. Also, be sure to write down a list of priorities so that the entire school floor shall have been perfectly cleaned when you are done.
Types of Cleaning To Carry Out
As already mentioned, due to the nature of individuals that use them, school floors can get very dirty. Therefore, to deep clean them, make sure to do pressure washing for grounds and walls within the school compound.
You also want to strip, sealing, and re-polish the hard floors to ensure that they look perfectly clean.
For hard floors such as gym floors, and changing rooms floors, you want to use a scrubber dryer machine. Once you are done with that, clean the curtains and upholstery and scrub the windows to give them a shiny look.
In case there are fabrics and carpets, use the right materials to deep clean them. In some cases, if the floors are very dirty and you think they might contain deadly pathogens, try to use disinfectants.
The Bottom Line
Deep cleaning school floors and walls require proper planning by a team of highly experienced experts.
If you feel that your institution needs to be cleaned when students are on holiday, make sure to contact the best cleaning companies in your area and agree on the price.