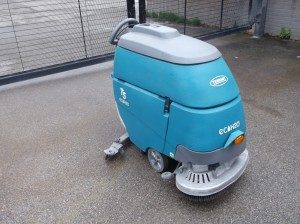 Before people buy used scrubber dryers, they want to sure that the devices will work just like their new counterparts without breaking down. Since most people who buy floor scrubbers are businessmen, they avoid possible downtime incidents that such machines could cause as that means losing profits. Here are some of the many questions that buyers have concerning used scrubber dryers.
What is the difference between a New and Used Scrubber Dryer, and Do used Scrubber Dryers Come with Warranties?
Both the new and used scrubber dryers work the same way. They clean floors using rotating brushes or floor pads. The only difference is that used scrubber dryers have been refurbished. They feature quality parts that have passed all the set standards to ensure that users get perfectly working machines at pocket-friendlier prices than buying new scrubbers.
If you buy the machine from a reputable company, it should come with a warranty. In most instances, you will get at least a 3-month warranty with a used scrubber dryer, which means that in case it breaks down, you simply have to return it for repairs and maintenance as long as the guarantee is valid.
Can a Used Scrubber Dryer Be Used on Any Flooring Type and Will it a Lot of Maintenance?
Just like a new one, you can use a used floor scrubber on most types of floors, excluding carpets, suspended flooring or natural wood. Before buying the scrubber, consider your floor type and the total amount of soiling possible as this will help you to choose the appropriate model. Scrubber dryers require maintenance just like any other cleaning devices.
The fact that one gets a used one does not mean that you have to do maintenance needed on it every month. However, it is wise to service it every six months to ensure it maintains its performance and efficiency. Always empty the dirty water tank after each use and clean the filters on a regular basis. Also, remember to check the scrubber pads frequently so that you can detect any wear and tear.
Which Chemicals Should Be Used On a Used Scrubber Dryer?
This depends on the type of scrubber dryer you have. For example, if you have a machine with a vacuum pickup, you should use a low foaming chemical. Also, do not make the solution too strong since the foam might collect in the recovery tank, burning out its vacuum motor.
There are two types of scrubber chemicals, including alkaline, which is ideal for non-sealed floors and neutral for delicate, polished floors.
Where Should I Buy a Used Scrubber Dryer?
Always buy a used floor scrubber from a reputable and established company. The reason is that you do not want to end up with a company or seller who doesn't want to take responsibility for issues that might develop later or is unable to do repairs on the machine.
Such a scenario could lead to lost cleaning time and a bad reputation to your company. You might also be forced to use money from your pocket to pay for the repairs.