Shock as Indian Railways' permanent way is paved with rubbish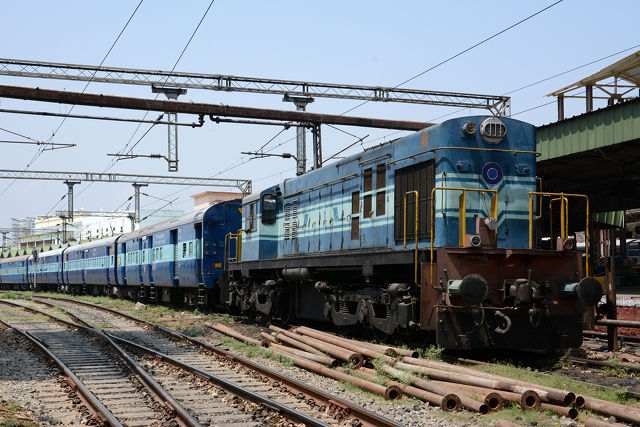 Since UK rail privatisation began in 1994, Rail magazine's Stop and Examine column had a long-running strand known as BB&W (or the Bin Bag and Weedkiller strand in its longhand form).  It named and shamed parts of the UK's rail network dogged by trackside refuse.  For instance: overgrowing foliage, abandoned wagons or substandard tracks with poorly maintained fishplates.
In a previous article on the Clean Hire blog, we looked at the Indian Railways' Clean My Coach programme.  According to India Today, it turns out that India's permanent way is paved with plastic bottles, discarded food packaging, and other detritus from its passengers.  How, might you ask, is this possible?  After its carriages are cleaned, the refuse is tipped onto the tracks.  We're not talking about a solitary Coca-Cola bottle in the four foot at Liverpool Lime Street, we're looking at a trainload of refuse.
Where the tracks are paved with plastic bottles
There is an eye-watering 10 to 15 tonnes of refuse per day on each of the Indian Railways' principal railway station.  That's each principal station on one of the world's most extensive rail networks.  Three of the country's largest stations – New Delhi, Old Delhi, and Hazrat Nizamuddin – generate 40 to 45 tonnes per day.
In spite of the good PR attracted by Indian Railways' Clean My Coach and Clean Your Stations campaigns, it is the tracks that have brought on the most tears.  A reporter on the Rajdhani Express (from New Delhi-Thiruvananthapuram) noticed how collected rubbish was thrown onto the tracks from the running train.  The rubbish was thrown through a gap between compartments.
Throughout India, solid waste is collected from stations and handed over to municipal authorities. Flytipping attracts a 5,000 rupees fine (£50.20). Littering station platforms or tracks is also a punishable offence, with a fine of 500 rupees (£5.02). We hope they find another way of dispensing the rubbish as trackside refuse reflects badly on the image of any railway.  Whether it's the broad gauge tracks in India or the miniature railway in Southport, we all gain from cleanliness.