Introducing Tennant's battery powered sweeper-scrubber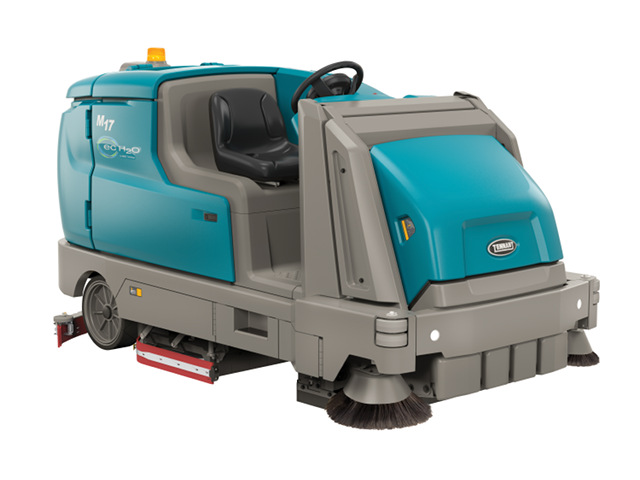 With the power of standard petrol-driven ride-on sweeper-scrubbers, Tennant's latest addition to the fold is the revolutionary M17. Their latest sweeper-scrubber is a battery powered one with greater energy efficiency than its predecessors. As a fume-free model, the Tennant M17 is a boon for large indoor spaces, which ensures clean air in the workplace and public buildings.
The Tennant M17 comes with a number of features that improve upon its predecessors. This include:
The Pro-PanelTM touch screen interface;
ec-H2OTM Technology with Severe EnvironmentTM switch: energy efficient detergent-free cleaning;
DFSTM (Dual Force Sweeping) technology: dual counter-rotating brushes, designed to capture large and small debris in a single pass.
The Pro-Panel screen is more intelligent than your usual display. Instead of a multitude of controls, everything is on an easy-to-use control panel. There are programmable Zone Settings which enable you to clean efficiently. With the Pro-ID setting, you can program the M17 to the skill levels of each operative (like permitting access rights to certain programs). There is also 28 different language options.
If you wish to clean efficiently, Tennant M17's bristle power makes that possible, thanks to ec-H2OTM Technology, with its Severe Environment switch. The battery powered M17, whilst in this mode, can clean any floor with a single pass – without detergent. With ec-H2OTM technology, a single tank of water can last three times as long as sweeper-scrubbers.
As well as the digital wizardry, the battery powered sweeper-scrubber's piece de resistance is its Dual Force Sweeping technology. Its dual counter-rotating brushes can pick up the largest and smallest of particles with ease.
The Tennant M17 is ideal for indoor and outdoor use. It is designed for cleaning:
Car parks, garages, and forecourts;
Warehouses, factories, aircraft hangers and exhibition halls;
Bus, coach and railway stations.
Contact us and as soon as Clean Hire offer the Tennant M17 battery powered sweeper-scrubbers, you'll be the first to know on our website under the industrial cleaning machines section.