A compendium of window cleaner centred mishaps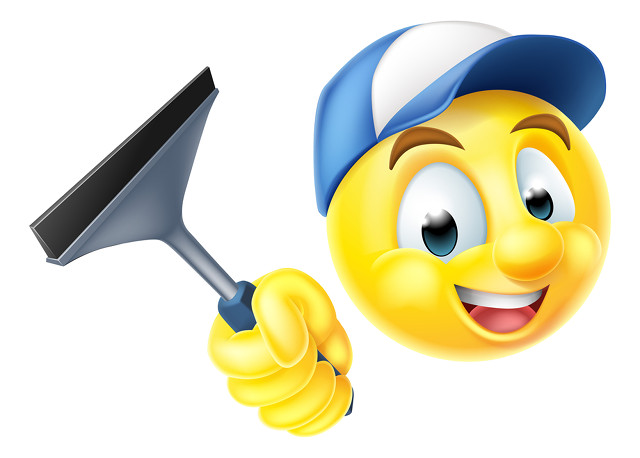 We have only just passed the halfway point of 2016, and this year is probably the most tumultuous in living memory.  Iconic singers have passed away.  There has been a lot of bad feeling on these shores and overseas. As for laughter, somewhat lacking.  Hence our latest post, which is entitled "It Shouldn't Happen to a Window Cleaner."
You have got to hand it to the window cleaner.  A lot of people wouldn't do their job due to the weather and heights, plus the potential dangers of the two.  Some prefer to use cradles or rope access techniques.  Others prefer the reach and wash method.  It is a job that requires a head for heights, good attention to details and a good level of fitness.  It is recession proof and less prone to obsolescence than many professions.
Sometimes, the most experienced of window cleaners as well as amateurs can be caught off guard, as seen by our compendium.
How a Benign Bucket Caused a Security Alert
In Lichfield, window cleaner Robin Baxter left his bucket outside a bookmakers' shop before embarking on his tea break.  To avoid spilling his water and losing his tools, he put a lid on the bucket.  Fifteen minutes later, after a coffee, there was mayhem.  In the Birmingham Mail, Mr. Baxter said: "I fancied a coffee and nipped into the Acorn. I wasn't going to be long so I left my bucket outside.
"I was in there for about 15 minutes and when I left a guy I know, who was in the bookies, told me what had happened.
"'You're in for a right rollicking from the police!'", he said.
Within minutes his bucket caused a bomb scare.  They thought the blue bucket was a terrorist cell's bomb.  After being coned off, Staffordshire Police inspected the contents only to find soapy water and his cleaning tools.  No roads were closed.
A Good Advert for the Use of Stepladders
In this YouTube clip, we see our window cleaner use a bar table instead of stepladders.  After cleaning the window, he steps on the bar table, then falls off landing on his rear end.  In the process, he didn't do his back a lot of good either.
Instead of using a bar table, he could have used a set of stepladders which would have given extra support.
When Cherry Pickers Go Bad
Sometimes, machinery can be a source of torment (which is why hiring an industrial vacuum from Clean Hire is a cost-effective alternative to buying outright).  As seen in this clip, filmed somewhere in the United Kingdom, is the worst possible nightmare for cherry picker operators.  That of the cherry picker seizing up before a clean.
In this case, reach and wash or rope access methods could have been a suitable alternative.
The Automatic Doors With a Mind of Their Own
Pity the gentleman who is trying to clean the automatic doors in this clip!  Though it is hard to clean the doors whilst in motion, we see the fellow's window cleaning wand being blocked by the doors.  The moral of the story: if possible, clean the doors when the doors are in a stationary position.  We doubt as if the window cleaner really had that option; his employer or commissioner would have wanted the store to be open then.
Clean Hire, 27 July 2016.