Two cleaning positions advertised on The Royal Household website, at the Palace of Holyroodhouse and Windsor Castle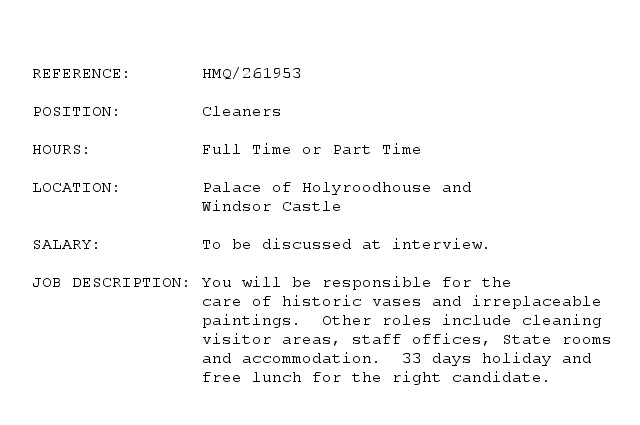 Fed up with your present position? Sick of the same superstore shelves ad infinitum? Fancy a change of scenery? The Royal Household is asking for two cleaners; one at the Palace of Holyroodhouse, and the other one at Windsor Castle. As advertised on The Royal Household's website, cleaning positions are available on a full time or a part time basis.
Instead of cleaning toilets or pushing an industrial vacuum cleaner along a supermarket aisle, your task will be more varied. For five days a week, you will care for "historic vase and irreplaceable paintings". If you're a bit clumsy with the china, this is not the job for you. No additional experience is required.
As well as caring for rare vases and paintings, you will also be charged with covering visitor routes and public areas. Also State rooms, staff offices, and accommodation. If you fancy moving to Edinburgh or Windsor, this could be the job for you. Wages have not been revealed in public; this may be covered at the interview stage.
Apart from being a good addition to your CV (even more so if you're a Royalist), employee benefits include 33 days paid holiday and free lunch. For the Holyroodhouse vacancy, you will be working five out of seven days over a 20 hour week. At Windsor Castle, you have a choice of full time or part time options.
The closing dates for the daily cleaning positions are on the 20 July (for the Holyroodhouse vacancy), and the 23 July (for the position at Windsor Castle).
Clean Hire, 03 July 2017.