How a central vacuum cleaner, underneath the former West Side Line in New York City aims to keep the city's much-loved elevated park in tip-top condition.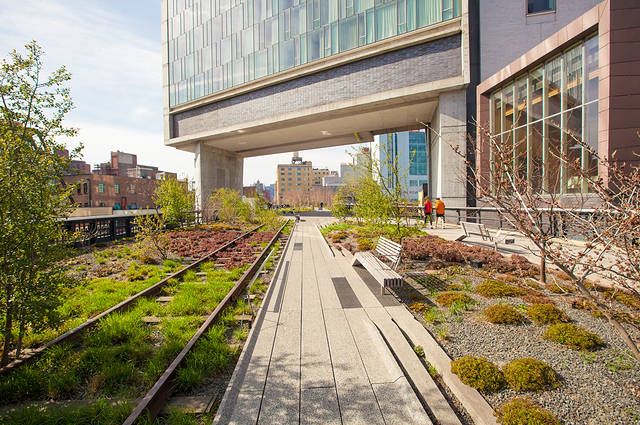 A revolutionary system of pneumatic tubes is set to improve the cleanliness of one of New York City's most popular open spaces. Pneumatic tubes, akin to a giant central vacuum cleaner, will be used to keep the High Line linear park clean. It is part of a plan to cut greenhouse gas emissions in NYC by 80%, by 2050.
All of the tubes will be placed underneath the park's elevated walkway, which is 1.5 mile in length from The West Village to 34th Street. The city's proposed network of tubes is inspired by a similar system on Roosevelt Island and is championed by ClosedLoops, who have overseen the project's development since 2010.
At pedestrian level, there will be a trio of bins every few yards. One bin will be used for the disposal of food waste (half-eaten burgers and sandwiches) with a second one for recyclable refuse, and a third one for non-recyclable rubbish. These will be connected to a pneumatic tube. There will be a separate pneumatic tube for restaurant food waste and a branch from Chelsea Market.
Like an enormous central vacuum cleaner, the allegorical vacuum bags will be the system's anaerobic digestion facilities. The waste is containerised and sent by rail for recycling. Its railhead is a few yards from the northern end of High Line park (which is the junction of 34th Street and 12th Avenue).
As part of its environmental strategy, the giant central vacuum cleaner will see fewer dustcarts along the High Line park. The idea's nothing new; it is reminiscent of similar practices In the UK with local authority housing estates. Known as the Garchey system, the waste disposal unit of a sink would be an outlet for disposing refuse.
This was implemented in the now-demolished Quarry Hill Flats in Leeds, and at the soon to be fully-refurbished Park Hill Estate in Sheffield. As waste consumption increased due to consumer spending, its limitations were evident. New York's scheme aims to improve on previous practices and we think they could be on to a winner.
Clean Hire, 14 September 2016.