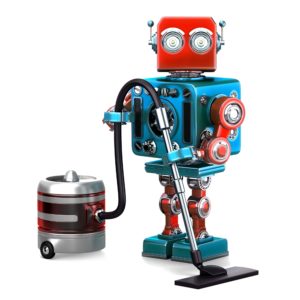 Most of us will be aware of the domestic, cleaning robots that glide around corridors and kitchens in homes across the country, but may not realise the extent of the technological advances in large, industrial cleaning machines.
As cleaning is a fundamental service in society, it is inevitable that robotic and electronic developments would eventually make an impact on the industry, and various new technologies are already deployed in many organisations across the country.
Floor Cleaning Robots
The key development in the next few years will be robotic cleaning machines. By 2020 onwards these will be visible in many more public places, and can already be seen in certain hospitals and shopping precincts. Like their smaller residential counterparts, these larger versions navigate around obstacles such as furniture and people as they take some of the drudgeries out of the cleaning process.
Although still at an early stage, robotic cleaners are anticipated to be a huge growth area in the next decade and trials are underway in a number of countries, not least the U.S., with robot technology originally developed for other purposes, now redirected towards cleaning and service industries.
Automatic Cleaners
More immediate improvements can be observed in automatic cleaners, which have progressively moved forward using highly sophisticated design technology. This takes into account not only a variety of environments but also the health of the cleaning operative and the specific needs of organisations such as hospitals and other large public bodies.
For example, new machines have energy and materials use at the heart of their specification, ensuring a reduction in the use of water consumption, chemicals and energy output. With the use of microprocessors and sensors, detergents and water can be metered accordingly, which has positive environmental and cost implications.
Changes also benefit the cleaning operative who can often configure the mode of cleaning to suit the environment and some models have single disk, dual disk and dual cylindrical modes to choose from.
In addition, sensors on certain models can detect and reduce or eliminate odours that may be deleterious to the health of the operator, or people with sensitivities to chemicals, such as hospital patients.
Green Cleaning
As with most industries, environmental concerns are of primary importance and cleaning is no exception. As well as the new technologies taking into account detrimental effects on human health and the environment, this now extends more and more towards ensuring suppliers and materials purchased are eco-friendly in the wider distribution network.
What Will This Mean For the Future
There is no doubt that new modes of cleaning will change the working environment and developments made to date have already taken some of the sheer grind out of the cleaning job.
In the future, a certain amount of jobs could potentially be undertaken by robotic cleaners. However, a human element is envisaged for heavier duty cleaning, organisation of cleaning schedules, equipment, materials and maintenance of new designs.
Industrial cleaning has certainly taken on a very exciting and futuristic aspect!