A Few Important Terms to Learn About Scrubber Dryers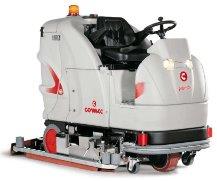 Floor scrubbing machines are suitable for various heavy-duty cleaning requirements. They can be used for hard indoors flooring and some outdoor surfaces. A scrubber dryer is a cleaning machine with a tank, vacuum and large brush at the bottom. The equipment runs the brushes mechanically, moving them methodically across the surface as they remove dirt.
The tank holds a cleaning solution that is deposited on to the surface to eliminate stubborn stains. A set of squeegees in the machine absorb the solution and dump it in a collection tank. When hiring or buying a floor scrubber, it helps to learn a bit more such as the terms used.
Here are a few;
Scrubber Size
Manufacturers have different models of machines that vary with the overall size. When getting a flooring scrubber, you must factor in the width and height. The machine size is crucial because it determines the capacity of the tank, its weight and manoeuvrability.
Squeegee Width
The squeegees are fitted at the back of the machine to collect the dirty water after scrubbing. For this reason, it is usually longer than the width of the equipment to collect enough water. The wider the squeegee, the more surface area it covers. However, make sure it is not too wide to fit into certain areas.
Working Width
The size of the brush, the dimensions of the space being cleaned and the speed of the machine dictate the working/cleaning width.
Tank Capacity
This term refers to the amount of solution that the floor scrubber can carry in one go. With a range of 4 to over 150 litres, you have many options to pick from when getting your cleaning equipment.
Vacuum Capacity
The vacuum capacity of a scrubber determines how well it can suck water from the surface. A strong vacuum dries floors effectively and fast.
Types of Floor Scrubbing Machines
You will come across terms like ride-on and walk-behind and wonder what they mean. Floor scrubbers are classified according to how they operate. A walk-behind is a freestanding machine where the operator has to push it from behind when cleaning. Ride-on or pedestrian scrubbers have space for operators to sit or stand while carrying out tasks.
Cleanhire has an extensive scrubber dryer range that makes it easy to find something that satisfies your requirements. We have genuine equipment from top brands that you can buy or hire for commercial or industrial cleaning. You can also hire our technicians for servicing to keep machines in good working conditions.