Comac CS80/90 Floor Sweepers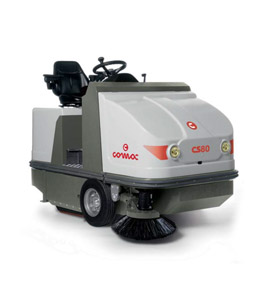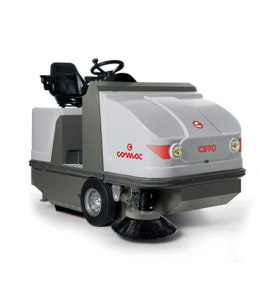 Studied to provide maximum driving comfort for the worker, maximum accessibility for routine maintenance, simple and quick, and to have extremely reduced running costs.
The CS80/90 sweepers have been created to make the operator's job comfortable and easy. They have been studied in minimum detail: the driver's seat can be accessed from both sides and the elegant instrument panel allows the operator to have the situation always under control. The CS80/90 sweepers are designed to provide maximum access to the engine compartment (in the Diesel version) and to the battery compartment (in the battery version). Thanks to this accurate study, any type of routine and extraordinary maintenance can be done inside the machine without ever being obstructed, guaranteeing quickness and greatly reduced costs.
| Model | Working Capacity up to Sq.M/Hour | Sweeping Width with Side Brush CM | Central Brush | Debris Container Capacity Litres | Power Supply |
| --- | --- | --- | --- | --- | --- |
| CS80B | 9150 | 112 | 80 | 190 | 36 Volt Battery |
| CS80D | 10800 | 112 | 80 | 190 | Diesel |
| CS90B | 10370 | 122 | 90 | 220 | 36 Volt Battery |
| CS90D | 10980 | 122 | 90 | 220 | Diesel |