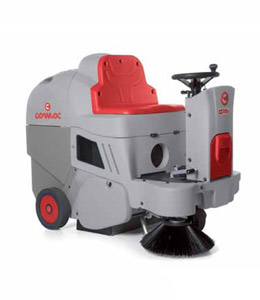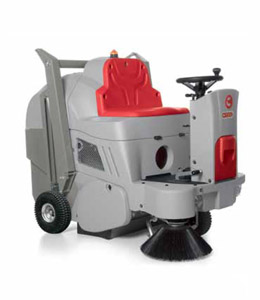 The CS700 and 800 are ride-on sweeping machines that breathe innovation, with automatic traction and powered by battery or gasoline.
Their 70cm or 80cm working width can be configured to cover a 112cm range so you don't need employees multiple machines to do the same task.
With a single battery charge, they deliver up to ten hours of run-time and the automatic traction enables them to climb over obstacles such as curbs but no need manual pushing.
From their "zero emission" engine to the controlled heavy duty brushless motor that promises more power and lifetime.
The CS700 is the smaller machine of the two, with a capacity of 350kg and able to travel at 8km/h. It has a range of up to 4 hours per charge and an optional vibration-free system to help keep the equipment in perfect condition.
The CS800 holds a larger debris container, allowing it to collect more material. It has a capacity of 600kg and can run for up to six hours per charge at 8km/h.
| Model | Working Capacity up to Sq.M/Hour | Sweeping Width with Side Brush CM | Central Brush | Debris Container Capacity Litres | Power Supply |
| --- | --- | --- | --- | --- | --- |
| CS700B | 12000 | 105 | 70 | 90 | 24 Volt Battery |
| CS700H | 12000 | 105 | 70 | 90 | 24 Volt Battery |
| CS800B | 12800 | 112 | 80 | 105 | 24 Volt Battery |
| CS800H | 12800 | 112 | 80 | 105 | 24 Volt Battery |