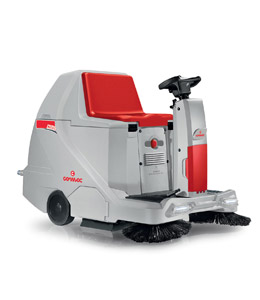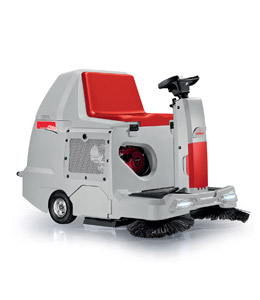 The Comac CS60 cleaning machines are ride on sweeping machines designed to meet different cleaning needs with great productivity. They have a working width of 60 cm with the only central brush and 100 cm with both side brushes (optional).
The new design increases machine comfort and manoeuvrability in use, allowing to work easily in medium size and cluttered areas.
While seated the operator can feel a full control over the machine, thanks to the complete visibility of the working and manoeuvring area and thanks to the innovative steering wheel with integrated controls, that makes the activation of machine functions more intuitive, without distractions.
The CS60 models are available with panel filter, for standard operations, or with cloth filter to achieve excellent filtering results also in environments with high presence of very fine dust.
They are suitable for both outdoor and indoor spaces and guarantee excellent cleaning results even on carpet floors. The CS60 sweeping machines can be battery operated (B version) or powered by a combination of gasoline motor and batteries (Hybrid version).
IT NEVER STOPS! Thanks to Hybrid technology it can work for 7.5 hours non-stop.
The Hybrid system combines a gasoline motor with low resistance batteries allowing to work for 7.5 hours non-stop with only 3.5 gasoline litres!
While CS60 is powered by the gasoline motor, batteries are recharged: in this way, just turning the key, you can switch from gasoline to battery supply to work in a silent, economic, and ecologic way.
| Model | Working Capacity up to Sq.M/Hour | Sweeping Width with Side Brush CM | Central Brush | Debris Container Capacity Litres | Power Supply |
| --- | --- | --- | --- | --- | --- |
| CS60B | 4500 | 100 | 60 | 65 | 24 Volt Battery |
| CS60 Hybrid | 4500 | 100 | 60 | 65 | 24 Volt Battery 5.5 Hp Engine |