Scrubbing and Sweeping all in one go
Just as powerful as it looks: Hakomatic 1800 covers up to 12,200 m² of floor space per hour
Please do not hesitate to contact Cleanhire if you require more information on the specifications of this product.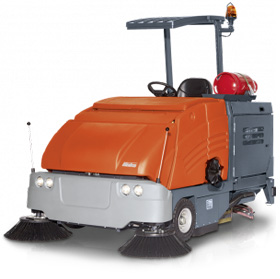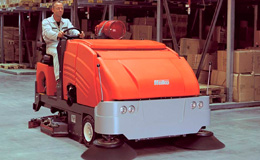 Efficient sweeping machine
Powerful hydraulic sweeping unit, large sweeping cylinder and two side brooms. Generously covered scrub-track.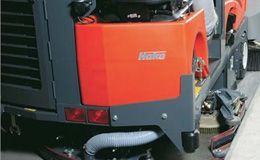 Hydraulic brush-drive with 3 disc brushes. Brush pressure adjustable up to 180 kg to suit every surface.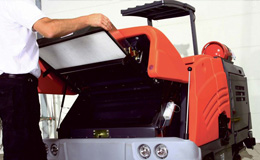 Efficient vacuum-function with dust-class L cassette filter. Direct tool-free access. Quick & easy filter check.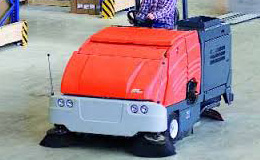 Parabolic squeegee with highly abrasion-resistant sealing ledge suitable for tough continuous operation. Swivel range stretches to the contours. Squeegee retracts when driving in reverse.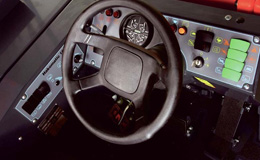 All control elements are in direct view and reaching area. Each aggregate can be switched on or off at the touch of a button.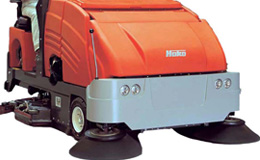 Easy to board, high seating position. A good view of the procuring scrubber aggregate enables working close to the edge.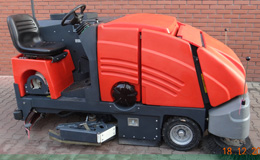 Reduced set-up time due to large tanks. The amount of water & cleaning agents used can be easily adjusted in line with the level of soiling. Automatic refill & dosage system.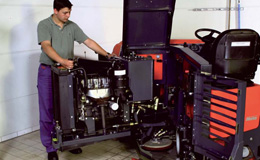 Easy access through a swing-out drive unit. Toolfree change of sweeping cylinder, main & side brooms are tool-free adjustable. Easy access to the drain-water hose. Large vent to drain the tank.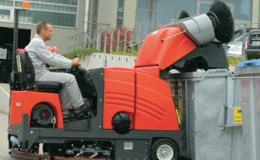 Powerful, infinitely adjustable dirt-hopper high dump, e.g directly into a large container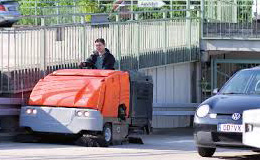 Tailor-made for cleaning multi-storey car parks
High climbing power for multi-storey car park employment. Big wheels and high ground clearance ensure excellent kerb-climbing abilities.
Warehousing & distribution facilities
Transport sector
Municipalities
Manufacturing & production facilities
Contract cleaning
Car parks