Sticky greasy drips and sodas cause a safety hazard for your employees plus make a poor impression on clients. Industrial floor cleaners use 100 percent clean water the whole time, leaving your floor cleaner and more hygienic. Studies have revealed that labour costs represent approximately 90 percent of the total cost of maintaining floors. Industrial floor cleaners allow operators to clean more within a short period. Here is what you should know before buying an industrial floor cleaner.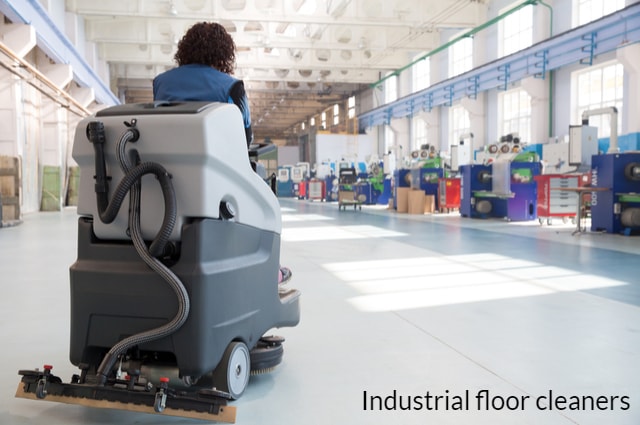 Floor Scrubbers – They are also called auto scrubbers; they're designed to clean surfaces that are hard like concrete floors found in a warehouse or hallways found in educational facility and hospital. They are more hygienic (they do not reuse dirty water). They are also 75 percent more efficient than mopping and save water plus can utilise environmentally-safe soaps.
Floor Sweepers – They are used in outdoor environments like lumber yards, foundries and parking lots.
Sweeper/Scrubber – Combination sweeper/scrubber machines can sweep plus scrub in one pass. You should choose a machine that has dedicated sweeping as well as scrubbing function to keep out dry debris of the scrub function. That makes cleaning your machine easier, plus reduces maintenance costs.
How Do I Choose a Floor Scrubber?
You will find many floor scrubber machines sold in the market. However, to find the best machine for your business, you should consider the following factors:
Machine Size – Walk-behind scrubbers are versatile and ideal for areas that have tight spaces. You can think of it as a lawnmower or vacuum. Large, sit-down models are a perfect choice when there's a large, open area that has to be cleaned. You should evaluate your space; for instance, measure narrow doorways and check for ramps plus any obstacle.
Tank Size – You should choose a scrubber that has ample tank space. This will help employees not to waste time when emptying and refilling tanks. Get the biggest machine that your space is able to accommodate. Machines that are larger can carry more water, plus they use larger batteries, which increases the time between recharging and refills.
Power Source – Battery-operated scrubbers offer flexibility (you do not need an electrical outlet to be close) and safety (there is no extension cord for people to trip over).
Intuitive Control Panel – Is it easy to operate the machine? Do you need multiple language modes?
Pressure and Dilution Adjustments – Are you able to increase scrubbing pressure when you want to clean tough spots? Are you capable of dialling back the level of dilution from full-strength chemicals and into water-only?
How Loud Is the Machine When You Are Operating It? That's essential for daytime cleaning, or even in areas such as hospitals where patients could be sleeping.
Deciding to rent, buy or lease a commercial or industrial floor sweeper / scrubber depends on how long you are planning to keep the machine. If you need industrial floor cleaners, CleanHire specialises in the hire, sales plus servicing of all industrial cleaning machine sizes. They include vacuums, sweepers and industrial scrubber dryers. This means that we are perfectly positioned to fulfil all the requirements of your industrial cleaning.