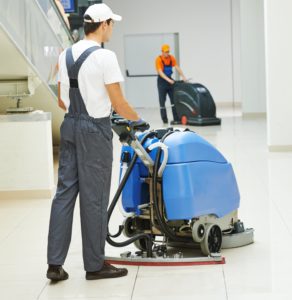 When choosing from a range of industrial cleaning machines for your company, it can be difficult to know where to start. However, there are a few important factors to consider when choosing a product such as: quality, efficiency, effectiveness, and cost. There are various industrial cleaning machines on offer including industrial floor sweepers, floor scrubber dryers, carpet cleaners, steam cleaners and other specialist equipment making it tough to decide what would work best on your flooring and additional surfaces. Below are three of the best industrial cleaning machines, their uses and advantages, and related trusted brands:
Floor scrubber dryers
The name itself suggests the use of this cleaning machine, but it is still a rather broad term. There are many types of floor scrubber dryers, including ride on machines, pedestrian machines, those that come with added extras such as mops, a variety of settings for a range of surfaces, and larger solution tanks. Versatile machines are the best quality but make sure you are not wasting money on added features you are not likely to use. If you have a range of large areas with different surfaces you need cleaning, then we would recommend the Tenant T300 43 Pedestrian Scrubber Dryer, although this does require someone walking behind it. However, if you only have one surface with an average distance covered, the Fiorentini C22 43 Pedestrian Scrubber Dryer would be a more sensible option.
Steam cleaners
Steam cleaners are more efficient to a light commercial cleaner, so would not be recommended to a company with a large building, since the steam cleaner can take a considerable amount of time and power. However, they are very efficient and affordable and therefore a must-have for smaller businesses. For light use, we would recommend the TR6 Steam Cleaner as it is manoeuvrable and compact, but for a heavier use, the Comby 9000 Steam Cleaner would be better suited since it has a larger capacity and is much more powerful. It also has the added benefit of being manoeuvrable and compact.
Carpet cleaners
Carpets require different care to lino or wooden flooring, and so a carpet cleaner caters perfectly to this need. They contain a vacuum system but are more precise and powerful than the average vacuum cleaner, which makes them suitable for industry use. However, they do not cater well to large spaces and are recommended for office spaces or smaller to average rooms. For more detailed cleaning, opt for a carpet cleaner with a wand such as the Hydromist 55 Self Contained Carpet Cleaner which works well on large, tough carpets with its powerful suction. There are other self contained systems that are available without a wand and these are better suited to less area specific cleaning such as large office spaces. For this, we would recommend the Hydromist 35 Self Contained Carpet Cleaner which is ideal for the deep cleaning of large areas.