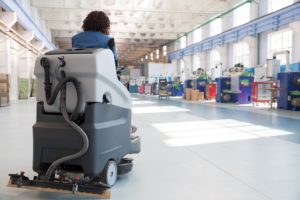 Fresh to the job and want to clean up in your new role? Create surfaces that shine from the outset by following these top tips for making the most of our equipment and products.
Choosing Your Floor Cleaner
Our wide range of professional cleaning machines are designed to help customers meet their own unique needs, so check you have the right tools for the job ahead.
A walk-behind scrubber may be just the trick for medium spaces but, for something larger, you'll probably need a ride-on machine which covers more ground in less time. Talk to your manager about what is right for the area involved.
Getting Started
Before you hop on board, check the space is free from any large pieces of debris or other obstacles. This will save time when cleaning, as well as avoiding unnecessary wear and tear on the pads or vacuum system.
Next, set up your machine by mixing the correct amount of cleaning solution and adding it to the shampoo tank. Don't forget to top up the water and detergent tanks too, so your vehicle doesn't run dry.
Add the correct scrubbing pad or brush, depending on what you're cleaning, check it is securely fastened and plug in the machine. You're ready to go!
Tips For Easy Cleaning
• Press the lever or turn the steering wheel to move off.
• Engage anything which controls the cleaning solution or vacuum systems, and check your pads are in the down position and making even contact with the floor.
• Start in the corner furthest away from the door and then work in parallel rows, back and forth, until you return to this point. This avoids having to redo part of the floor before you leave the area.
• Keep an eye on the water level so you don't run low, as well as the recovery tank so it can be emptied on time.
• Overlap each line as you pass to avoid missing any spots, and allow time for drying as you go.
• Avoid streaks by cleaning all components frequently, especially the recovery tank where different cleansing products can mix together, and change scrub pads according to the surface when needed.
Safety First
It is essential to wear the right personal protective gear when using an industrial cleaner, for example, safety goggles or a simple mask to protect against dust and other particles.
Most of our machines are pretty powerful, so you may also need earplugs to protect your hearing, especially if you're new to the business. Non-slip shoes are also recommended, given the high sheen created, and some vehicles also have seat belts fitted to prevent falls.
You may need to wear gloves or a mask when refilling or cleaning tanks due to the high chemical volume of some cleaning products. Make sure to check the bottle for instructions before using.
Once your cleanse is complete, inform staff that surfaces may still be damp by placing caution or wet floor signs nearby.